1. Chelsea Aesthetics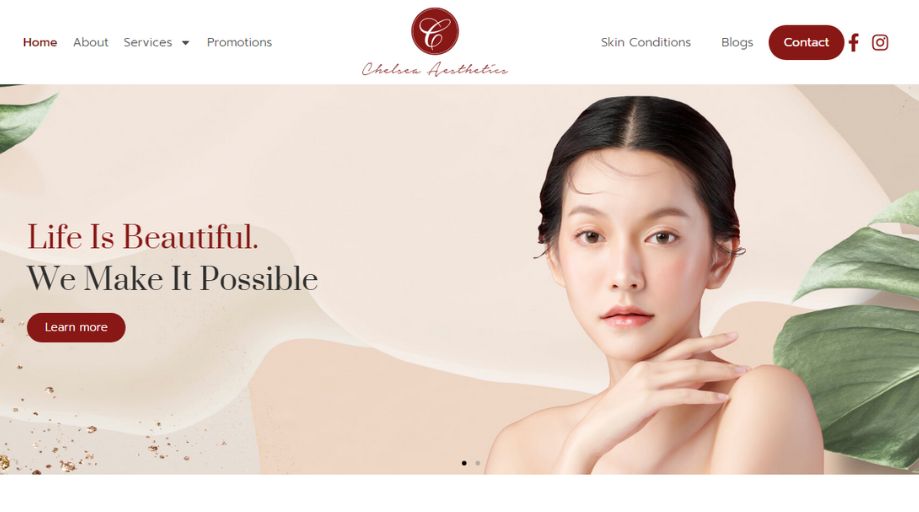 Chelsea Aesthetics is committed to providing individualised aesthetic solutions that are suited to the particular requirements of each person. It emphasises bringing out your greatest attributes on the inside and out. Their goal is to treat every patient affordably, effectively, and without sacrificing the calibre of our work.
Services Offered:
Skin-specific facials
Deep clean facials
Needleless PDRN
Cellular repair therapy
Timeless lift therapy
Bareback facials
2. Mirage Aesthetic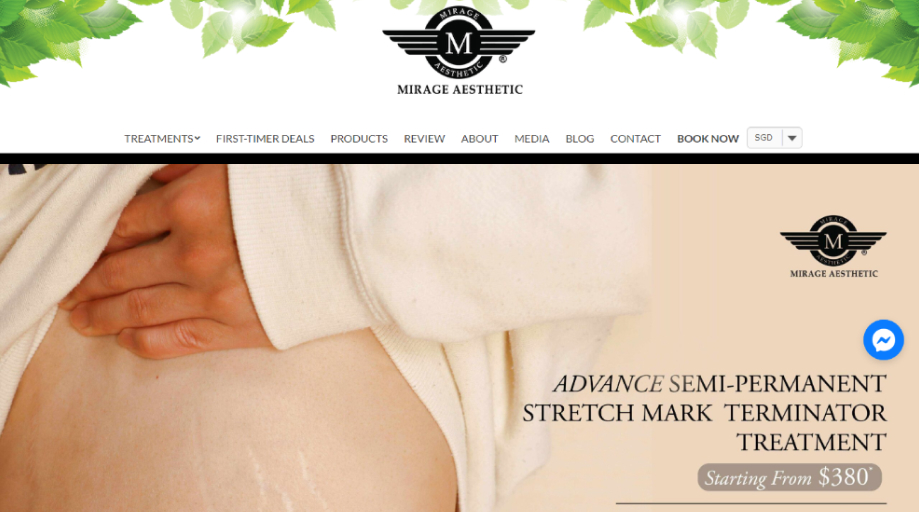 A leading cosmetic clinic, Mirage Cosmetic helps people attain their ideal appearance with innovative and efficient procedures. It is the first botanically inspired aesthetic clinic in the town.
Services Offered:
Premium glow facial treatment
Korean Bb glow facial treatment
Age-reversing treatment
Collagen booster treatment
Medi ionic face treatment
PDRN skin regeneration
Skin renewal treatment
Pigmentation removal treatment
Acne treatment
Stretch mark treatment
3. Chelsea Clinic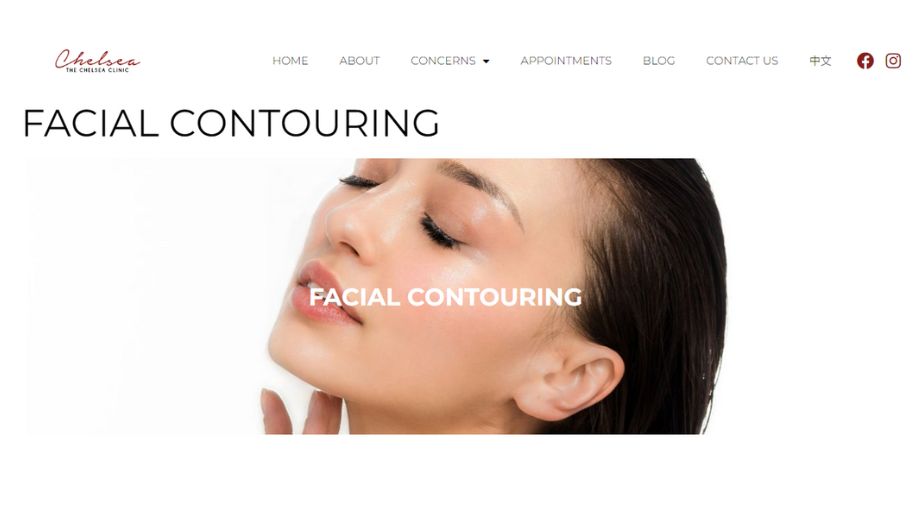 Address
501 Orchard Road #05-08A, Wheelock Plaza, Singapore - 238880
Contact
+65 6735 8833
Website
https://chelseaclinic.com.sg
Email
Not Available
Working Hours
Monday – Friday : 09.30 AM – 06.30 PM
Saturday : 09.30 AM – 01.00 PM
Sunday : Closed
The Chelsea Clinic, one of the best aesthetic Clinics in Singapore, and one of Singapore's largest groups of aesthetic/wellness clinics was founded in 1999 by Dr Ewen Chee Yew Wen and focuses on the holistic approach to a person's well-being through medical aesthetics and individualised healthcare.
Services Offered:
Active acne
Acne scar
Pigmentation redness
Facial contouring dark circles
4. Thomson Specialist Skin Centre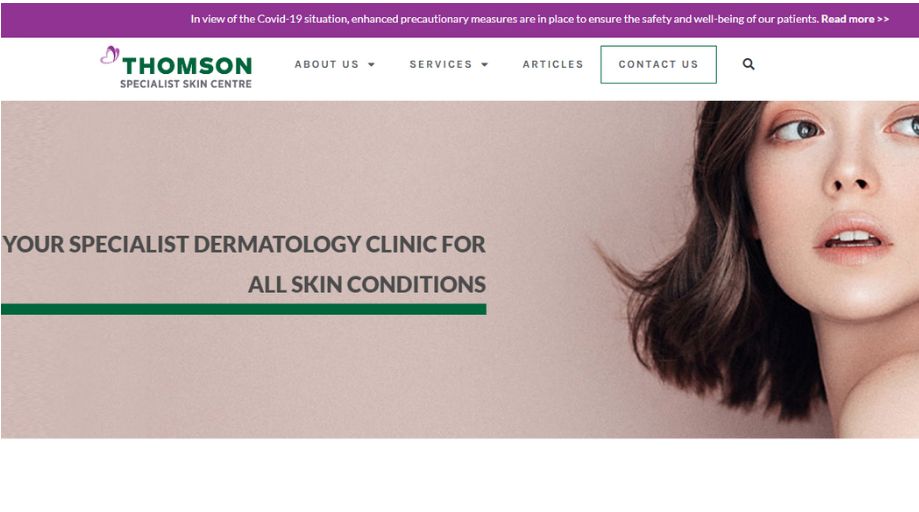 Thomson Specialist Skin Centre is a trusted name among Singapore's leading skin and laser specialist clinics, staffed by experienced and highly qualified doctors.
Services Offered:
BTX treatment for wrinkle reduction
Excision of moles
Epidermal cysts and other benign skin growth
Filler injection for skin rejuvenation
Laser treatment
Pigmentation treatment
Acne treatment
5. Om Aesthetics Clinic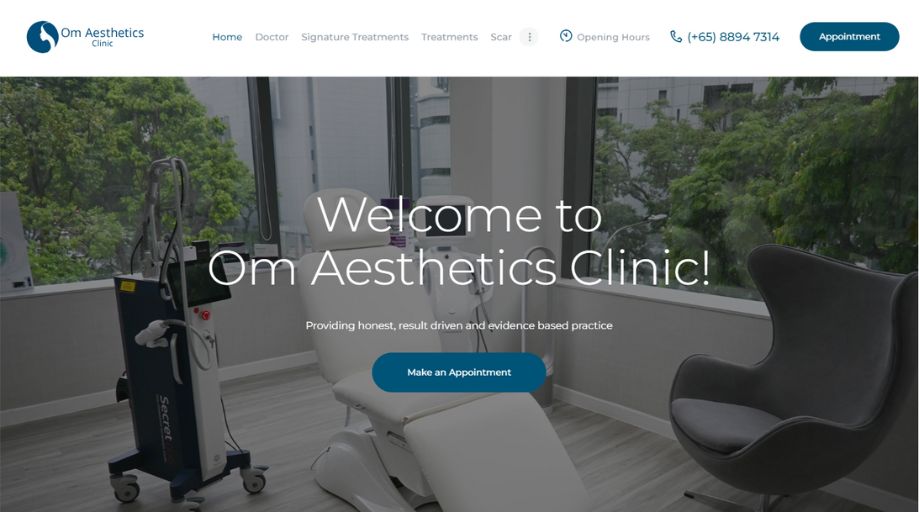 The Om Aesthetics Clinic provides high-quality aesthetic treatments without a high cost. In addition to prioritizing honesty, they focus on producing evidence-based results. Their commitment is to provide effective, scientifically-backed practices in the realm of aesthetics, ensuring clients receive top-notch care and transformative outcomes.
Services Offered:
Rejuran S treatment for acne scars
PICO glam laser treatment
Ultimate facelift
BTX & Dysprt
Fillers, Ultraformer III HIFU
Radiofrequency microneedling
Rejuran healer
Skinbooster
6. Angeline Yong Dermatology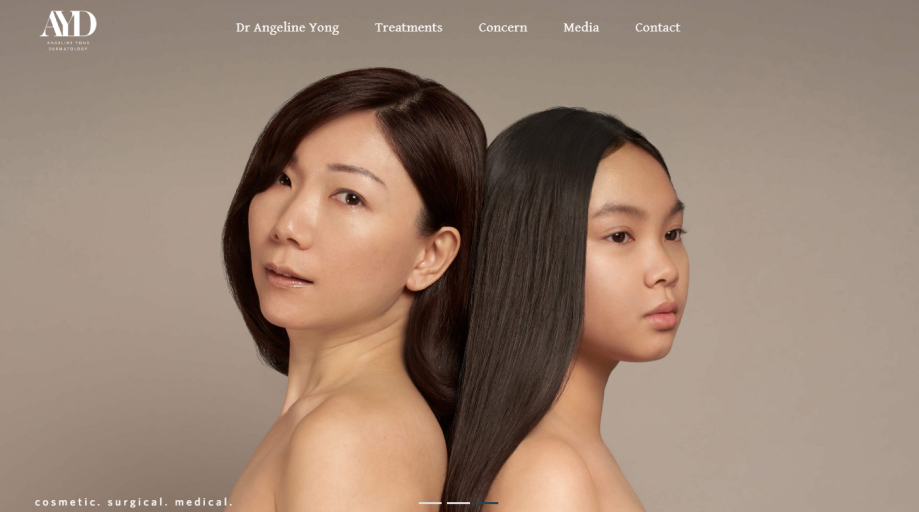 Address
6 Napier Road, #02-04/05 Gleneagles Medical Centre Singapore 258499
Contact
+65 6252 0026
Website
https://ayd.com.sg
Email
info@ayd.com.sg
Working Hours
Monday – Friday : 08.30 AM – 05.30 PM
Saturday : 08.00 AM – 12.30 PM
Sunday : Closed
Angeline Yong is a renowned Dermatology Specialist for its extensive services and treatments catering to various skin care needs.
Services Offered:
Filler injection
LED light therapy
Laser for birthmarks/scars/moles/hair removal
Pigmentation treatment by laser
Medical grade facial
7. Slim d'Madames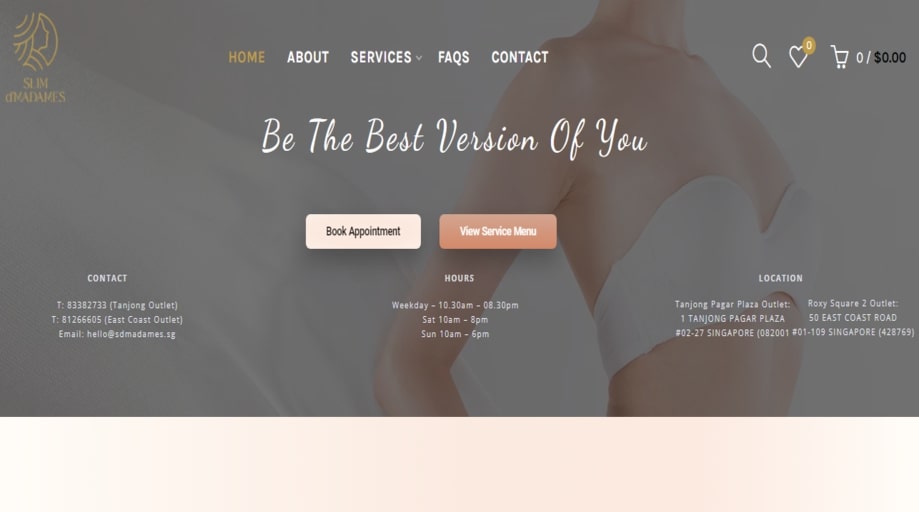 Slim d'Madames is a leader in cutting-edge skincare solutions, offering clients an exceptional blend of science and artistry to help them achieve perfect skin. In the heart of Singapore, there is a locally owned, state-of-the-art TCM slimming centre that places a strong focus on health and wellbeing.
Services Offered:
Post-natal slimming
Slimming cupping
8. Anteh Dispensary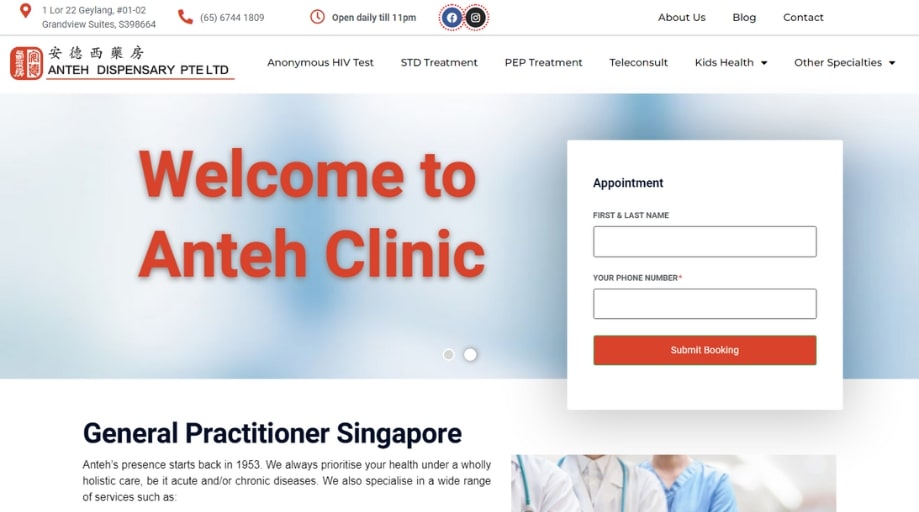 Address
1 Lor 22 Geylang, #01-02, Singapore 398664
Contact
+65 67441809
Website
https://antehdispensary.com/services/acne-treatment/
Email
Not Available
Working Hours
Monday – Friday : 09:00 AM – 12:00 PM, 02:00 PM – 05:00 PM, 07:00 – 11:00 PM
Saturday : 09:00 AM – 12:00 PM, 01:00 PM – 06:00 PM, 07:00 PM – 11:00 PM
Sunday : 01:00 PM – 06:00 PM, 7:00 PM – 11:00 PM
Anteh Dispensary is a well-reputed name in the realm of aesthetic clinics. Anteh Dispensary is dedicated to offering patients of all ages expert and personalised medical care.
Services Offered:
9. Little Cross Family Clinic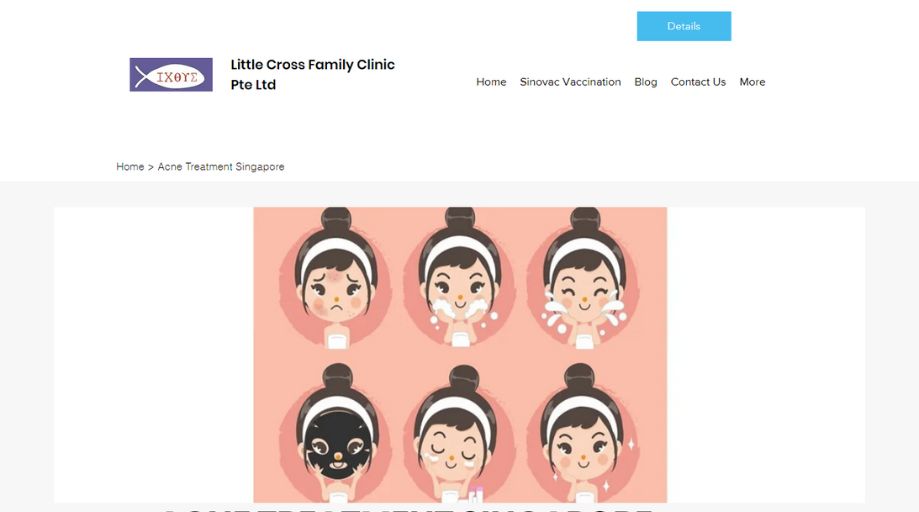 In dermatology, Good-Professional-Doctor is a reputable aesthetic clinic known for its knowledge of skin health and treatment. It was founded in 1999 with the goal of offering everyone access to top-notch medical treatment at reasonable costs.
Services Offered:
10. Healthsprings Aesthetics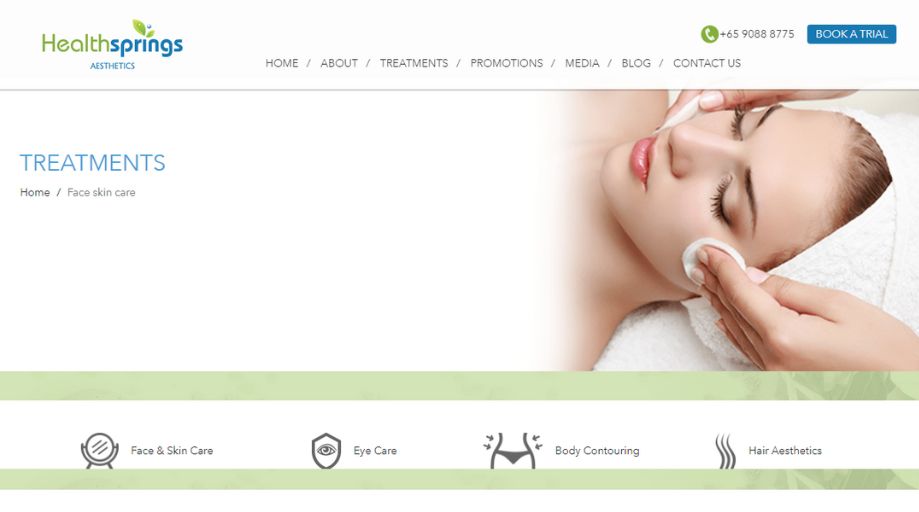 Through a variety of evidence-based procedures, Healthsprings Aesthetics is dedicated to assisting customers in achieving their aesthetic objectives. It is counted as one of the top skincare clinics.
Services Offered:
Face Slimming Treatment
Pigmentation Removal Treatment
Stretch Marks Treatment
Take a step towards healthier, more vibrant skin by visiting one of these top aesthetic clinics. These clinics provide a wide variety of treatments to meet the specific needs of your skin, whether you're looking for medical treatments, cosmetic improvements, or just a relaxing vacation for your skin.
Make an appointment now to speak with one of their professionals about the best course of action for your skincare quest. These clinics are committed to providing the finest treatment possible for your skin.