You've come to the perfect place if you're thinking about improving the appearance of your face, particularly skin rejuvenation and mole removal. We recognise the need of providing secure and reliable solutions as specialists in face laser treatments in Singapore.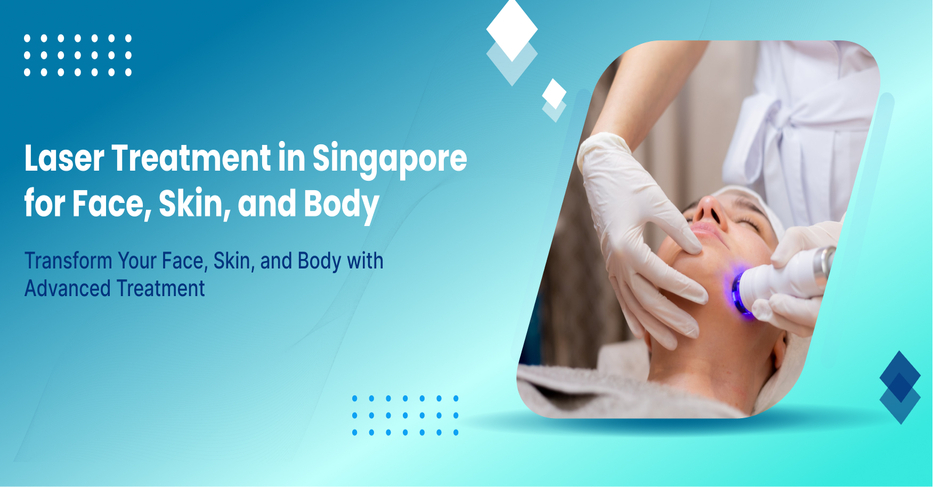 We'll provide you with professional advice on laser therapy for the face in Singapore in this post, with an emphasis on mole removal and skin renewal. Let's investigate the marvels of laser technology and its transformational outcomes!
Laser Treatment for the Face:
Utilising modern laser technology, laser treatment for the face in Singapore aims to remove moles and other skin flaws in particular trouble spots. As a result of its accuracy and adaptability, laser treatment for face in Singapore has become a popular choice.
In order to assist people, obtain a smoother, clearer, and more youthful-looking complexion, clinics for mole removal in Singapore provide safe and efficient non-invasive methods for mole removal in Singapore.
Moles are frequent growths of skin that can differ in size, colour, and form. Although the majority of moles are benign, some people may choose to have them removed for aesthetic or medical reasons. Using laser radiation to destroy the pigmented cells within the mole is a safe and effective way for removing moles.
The treated mole is then removed through the body's natural healing mechanism, barely leaving a scar. Laser mole removal has grown in popularity in Singapore because of its accurate and productive outcomes, which enable people to have skin free of moles.
Enhance your skin with Laser Treatments:
Singapore provides a non-surgical approach to managing numerous skin issues and improving general skin health: skin rejuvenation with laser treatments. Improved skin texture, fewer fine lines and wrinkles, and a more uniform skin tone are the results of laser technology's stimulation of collagen formation.
Skin problems including acne scars, pigmentation, sun damage, and uneven skin tone can be efficiently treated with it. Individuals can attain a fresher, more youthful, and more radiant appearance using laser treatments for skin rejuvenation.
Choosing the Right Clinic:
It's essential to pick a reputed place with qualified people while looking for laser treatment for the face in Singapore. In order to get the best results from mole removal and skin rejuvenation operations, seek a laser treatment centre that specialises in these procedures.
Modern laser technology is available at several reputed clinics in Singapore, and these facilities also employ competent medical professionals with expertise in using lasers on the face. You may choose the best facility for your laser treatment for the face in Singapore by reading patient reviews and asking for advice from reliable sources.
Preparing for Laser Treatment:
You will receive precise instructions from the doctor on how to get ready for your laser treatment. It can entail minimising exposure to the sun, stopping certain medications, and sticking to a skincare regimen designed just for you. The doctor will evaluate your appropriateness for laser therapy during the appointment and go over the anticipated results and potential dangers.
Post-Treatment Care:
The doctor will provide you with post-treatment care recommendations after your laser treatment. This can involve taking any prescribed drugs as directed, using mild skin care products, and limiting sun exposure.
The healing phase for each person may differ, but the majority of people may anticipate little downtime and can resume their usual activities quickly following treatment. Reputable clinics in Singapore make sure that patients receive thorough post-treatment care to speed up the healing process and improve treatment results.
Also Read - Laser Hair Removal Treatments are Worth Their Price
Advantages of Laser Treatments:
Accurate targeting and minimal discomfort:
When it comes to mole removal in Singapore, laser treatments offer precision targeting, enabling the physician to concentrate on the mole while sparing good skin around it. Compared to surgical excision, laser mole removal typically causes less discomfort and speeds up the healing process.
Laser treatments are a popular choice for those who are worried about having visible markings because they are non-invasive and cause little scarring.
Safe and efficient:
Reputable clinics give a high priority to patient safety by guaranteeing that the treatments are carried out by licenced and skilled medical professionals. In order to provide accurate and efficient treatments, they adhere to stringent safety regulations and make use of modern laser technology.
Personalised solution:
Laser treatments provide versatile options for skin treatment that are suited to individual requirements. Improved skin texture, fewer wrinkles, and a more youthful appearance result from the laser energy's carefully regulated stimulation of collagen formation. Contrary to intrusive procedures, laser treatments have little to no downtime need, allowing patients to return to their usual activities quickly after treatment.
Conclusion:
Singapore's facial laser treatments provide secure and reliable options for mole removal and skin resurfacing. People can get a mole-free complexion and a revitalised, young look with the help of cutting-edge laser technology and knowledgeable medical professionals.
If you're thinking about getting laser therapy for skin rejuvenation or mole removal, look for a reputed clinic in Singapore that has skilled physicians that specialise in laser procedures. Utilise the transforming power of laser technology to get a cleaner, brighter complexion and reclaim your confidence. Start your road to a more radiant self by scheduling a consultation now!
For a stunning appearance look, Certified Aesthetic Clinic has a team of professionals that are skilled in skin tightening, mole removal, undesired hair removal, and the elimination of acne scars. We assist individuals in enhancing their physical appearance and boosting their self-confidence.